Goggins Property Maintenance is your PRO Sweeping – and more – Headquarters!
Offering a Profesional Level of Power Sweeping, Power Washing, Parking Lot Striping, Porter Services, Bulk Trash Removal and more in Lynchburg, Bedford and Madison Heights Virginia.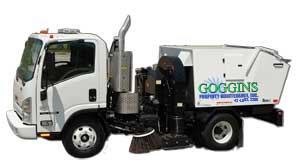 There are many reasons our website domain name is ProSweeping.com. We take professionalism in sweeping and our many other services to the next level.
You will find we use only the most advanced air sweepers, ones that are capable of picking up any loose material from the pavement. By removing even the small particles in pavement cracks, the chance of slip-and-fall accidents is decreased considerably.
Our sweepers feature rotating gutter brooms that will clean your curb-line for greater curb appeal. Backpack blowers are used prior to sweeping for hard-to-reach areas such as corners, gated areas and covered parking.
Goggins Property Maintenance is PRO-Active!
A regularly scheduled sweeping program can actually prolong the life of your pavement and paint striping, thereby delaying costly resurfacing expenses. Sand, rock and debris act as an abrasive. Removing this material on a regular basis assists in preventing potholes, cracking and adding service life to pavement striping.

There are many reasons why power sweeping is important to your customers, as well as to your overall bottom line. We invite you to use the link to the right to see our handout detailing many of these.
Our typical sweeping routine for clients includes all parking lots and ingress areas. This keeps your property looking its best and creates an inviting, safer environment for your clients. In addition, we often provide the following for our customers, as well:
Handpicking any litter from shrubbery and landscaping.
Removing any weeds growing through cracks in pavement.
Emptying trash containers on the premises.
Cleaning around dumpster and dock areas.
Hauling away any debris dumped onto your property.
Goggins Property Maintenance offers a number of sweeping service options, including daily, weekly, biweekly, monthly and as needed. Our proven expertise and experience can assist you in all of your ground maintenance requirements in commercial, retail, and residential complexes.
We Service Many Types of Clients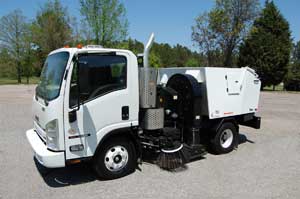 The diverse types of property we service includes:
Shopping Centers
Office Buildings
Industrial Parks
Parking Structures
Access Roads
Schools
Streets and Roadways
Construction Sites
Goggins Property Maintenance offers many PRO-fessional services...
In addition to a full range of power sweeping services, Goggins Property Maintenance also offers:
Bulk Trash Removal is just a phone call away. We will remove any large or bulky items that your normal trash removal service will not accept and dispose of them properly.
Day Porter Duties keeps your property looking great 24/7/365. Our litter removal teams are trained to spot and remove the smallest of debris.
Landscaping Services include mulching, tree/bush pruning, and other services by request.
Lighting Reports are provided via email next morning after the outage is spotted by our trained sweeper operators.
Power Washing/Graffiti Removal of sidewalks, parking decks, and parking garages followed by regular sweeping keeps walks and garages clean and inviting to the public.
Parking Lot Seal Coating is one of the best ways to keep your parking lots looking great, last longer, and have the striping remain vibrantly visible.
Parking Lot Striping to enhance your parking lot; help manage traffic flow; designate no parking areas, fire lanes and crosswalks; and provide pedestrian and vehicle safety via designated parking spaces.
Parking Lot Repair including repair of potholes, crack filling, etc.
Porter Services to provide hands-on, detailed cleaning of small trash items, as well as policing of cigarette butts from store fronts and landscaping.
Sign Installation/Repair is available on a scheduled or emergency basis. We can typically be onsite within the hour of getting your call in order to flag any dangers due to signage down or missing.
Snow Removal is prioritized for our sweeping customers and otherwise available manpower permitting. We have excellent snow removal credentials and equipment.
Tenant Space(s) Cleaning is a way for you to get your new tenants into place in the shortest timeframe possible. We can handle it all, from cleanup to repair.
24-hour Emergency Service Response 24/7/365 is available for all of the services shown above, as required.
Other Services are available by request. For example, we routinely recommend area plumbing and electrical contractors for our clients when the occasional need arises.
Goggins Property Maintenance can PRO-duce the best results possible

Call 434.610.4492 or use the email link button shown to the right to contact us for a FREE professional assessment of your needs. We look forward to providing you with an extraordinary level of sweeping, exterior maintenance and related services.
For more information on Goggins Property Maintenance, call or fax the phone numbers in left column, or contact us by email: info@prosweeping.com